Don't put the cart before the horse
This age old proverb is exactly what we are known for! You get nowhere following what everyone else does; individuality and creativity can be the key to something great. We wanted to create a brand that truly represented North Carolina. Not just to native Carolinians but also to the millions of people that visit North Carolina annually for vacation, education, military, banking, or most importantly a great time! When you come to North Carolina, Momentum wants to send you home locally or abroad with a unique souvenir. A souvenir we developed while owning Momentum Surf and Skate in downtown Wilmington. Hunter Ford had the idea to develop and patent a North Carolina shaped bottle and find the right spirits to fill it with. We sought out a custom bottle manufacturer, worked back and forth on the design, had samples made, and let the lawyers work out the fine details. It was a difficult process but the outcome has been amazing. So we put "the cart before the horse" and spent the last few years developing the perfect horse to fill our bottle!



Customize Your Bottle

Unleash your creative side with the NCvodka Bottle! Download the free template to craft a custom bottle image that tells your unique story. Share your creation with us and be part of the Momentum Distillery community in showcasing what matters most to you. Download the template now and add your unique flair to the customization movement!
Make Your Own
Our Spirits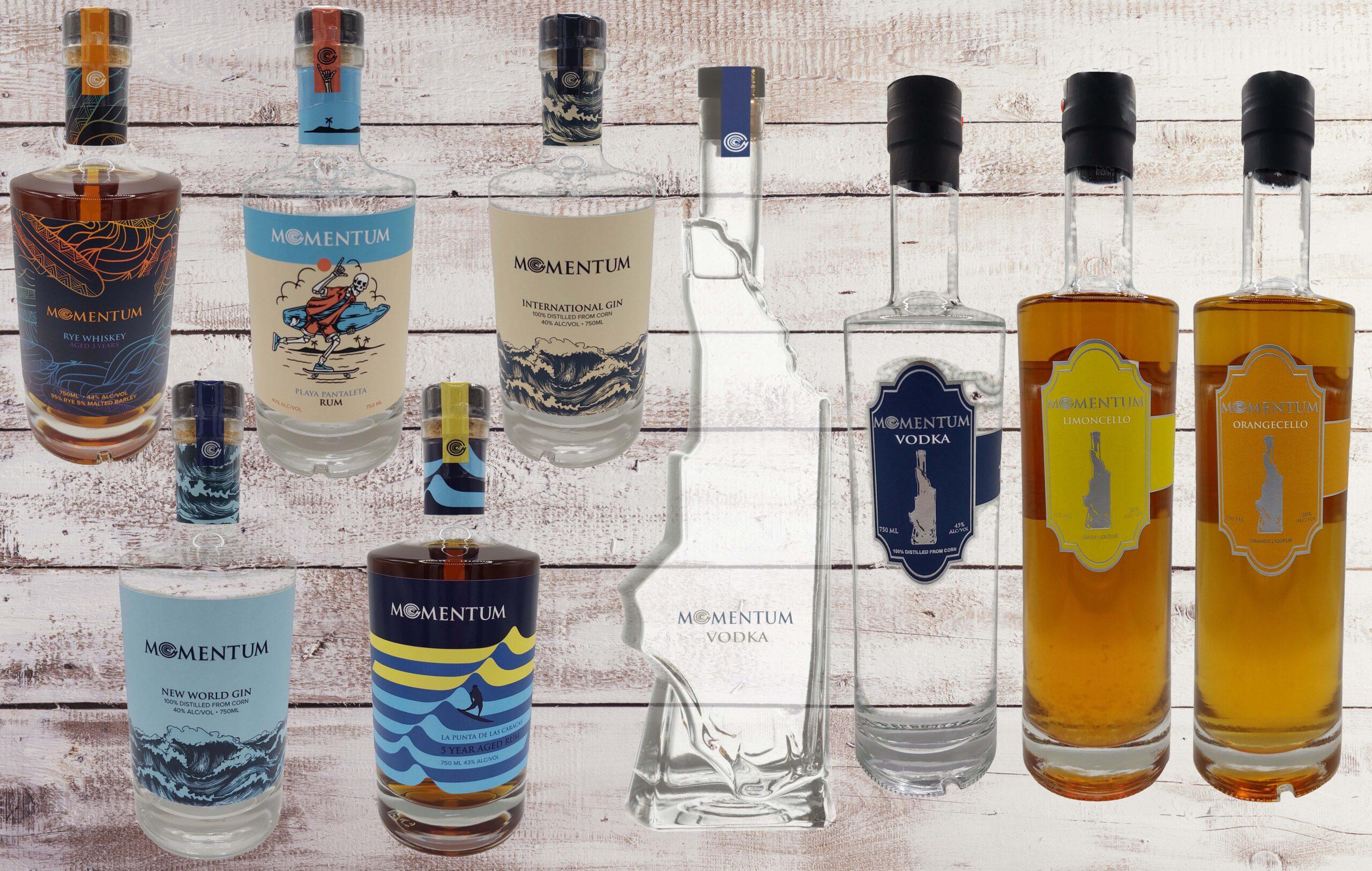 Our Story
Momentum has been a family business for the last two decades. Started by Misti and Hunter Ford, the business began with our love for surfing. We met in the Outer Banks working in restaurants over the summer while finishing college, went to the beach daily, dreamed of being entrepreneurs and moved to Wilmington to follow that dream. Together we opened Momentum Surf and Skate, Momentum Loft, and Burnt Mill Creek Wine Bar. Our family grew over the years and our 3 daughters are regulars working in the distillery. Come meet the family and join us on this journey!
See Our Story
Media
We have been extremely grateful of all the local press we have received over the years. It was our original intention to contract a North Carolina distiller to make our products. With the changes in North Carolina ABC laws and the partnership with our consultant from Kindred Spirits we took the leap of faith and created our own path.
View Gallery & Articles
Online Store
Momentum began as a surf and skate shop, we continue as a boutique distillery. Our retail game is strong! We offer what everyone loved about our private label brand in Momentum Surf and Skate and new items keep making their way online and in the distillery.

Preorders for limited release spirits are available online for pickup and bulk orders for weddings and events are available for reasonable local delivery.
Shop Online